I started doing my job when I was a boy, clumsily fixing my guitar that had its bridge ripped off. It was a Japanese classical guitar, made of plywood, but it was mine and I still keep it as a memory of that first work.
This had been the spur that led me to meet – in 1980 – my late and dear Maestro Federico Lowenberger, introduced by my friend, and now Maestro, Antonino Airenti, as fond of music and instruments as I am. For more than 25 years, I was part of Master Lowenberger's workshop and I can say I learned everything I know by working "a bottega" with him.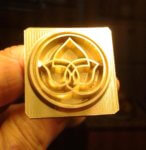 Thanks to him, I used the logo I now put in the threading of all my instruments for the first time (when it's possible) or by branding, in honor and in memory of my beloved Maestro.
In my life I have built, fixed and restored any kind of stringed instrument, guitars, mandolins, violins, violas, violones and double basses. In time, large instruments have become my favorites and they actually are my main work. I also work on modern and electric musical instruments.
In 2008 my long-cherished dream finally came true and I opened my new workshop, in Genoa's historic centre.